Refractory Raw Material
Bauxite is an aluminum ore.It consists largely of the AL minerals gibbsite Al (OH)3,boehmite and diaspore AlOOH,together with the iron oxides goethite and hematite,the clay mineral kaolinite and small amounts of anatase TiO2.Bauxites are typically classified according to their intended commercial application: abrasive,cement,chemical,metallurgical,refractory ,etc.

Silicon Carbide is the compound of carbon and silicon.It was originally produced by a high temperature electro-chemical reaction of sand and carbon.It is used in abrasives,refractories,ceramics

Flint Clay is mainly to produce good quality refractory bricks.

The products are mainly applied to the steel-making and electric furnace, which are used for making the sintering furnace bottom, tamped liner, magnesia brick and chrome-magnesia brick.

The products are mainly applied to the steel-making and electric furnace, which are used for making the sintering furnace bottom, tamped liner, magnesia brick and chrome-magnesia brick.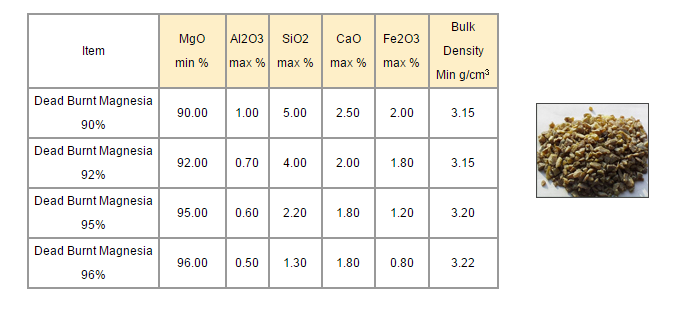 Fused Magnesite Alumina Spinel based on ultra-grade baxuxite and MgO possesses favorable properties,such as strong resistance to thermal shock and basic slag attack.It can be applied to producing nozzle brick, ladle castable,lining material of induction furnace, Magnesite Alumina Spinel brick.

Sintered Magnesite Alumina Spinel is made of imported industrial alumina and high quality active magnesia as starting material,sintered at super-high temperature, which is a preferred material for basic refractories and high quality castables for ladle and for con-casting slide plates due to its features of ultral-low impurity,good crystal growth and homogenized structure.

Fused Mullite is produced by melting mixed pure quartz sand and industrial alumina in huge electric arc furnaces. With the high content of mullite crystal, high melting point, excellent thermal stability, low reversible thermal expansion and resistance to thermal shock and chemical corrosion at high temperature. It can be widely used as linning bricks in glass body kiln and large hot wind furnace in iron-making blast furnace, as well as in ceramic kiln and petro chemistry.

Sintered Mullite can be divided into three types based on Kaolin,Bauxite and Alumina.

Fused Zirconia Mullite is molten in the dumping electric are furnace with certain proportion of Al2O3 and high purity zircon.It can improve the thermal shock and erosion resistance of refractory products and improve the wear resistance..It is an ideal material for making slide gate,long nozzle and well block.

Fused Silica is made of highest purity Chinese crystal Silica by electrically fusing (fusing temperature 1800-2000℃)to amorphous Silicon dioxide , then specially engineered ingots, granular and flour form designed for different usage. This product has a very low thermal conductivity and excellent thermal shock resistance.

White Fused Alumina is refined from high purity alumina fines, with the major crystal phase of  α- Al2O3 .It is widely applied to refractory and high temperature industries, producing crucible, pusher and corundum castable.

Brown Fused Alumina is fused in an electrical arc furnace from a mixture of bauixte,coal,scrap iron at high temperature.The appearance is brown in colour. It has high hardness and great toughness.The tools made of Brown Fused Alumina are suitable for grinding carbon steel,normal alloy steel,malleable cast iron and hard bronze.In the refractory industry,it is suitable for refractory aluminum oxide lining mixture,pouring material,castable and refractory brick,etc.

No moisture-absorption, free of pulverization, no any change of quality during storage and transport. Low melting, good flowing property. It can remove the harmful impurities such as sulfur etc. in the steel stream. 
Physical Performance And Use
(1) Low melting (≤1370℃), low viscosity of melting slag, good flowing property, short time for slag-forming.
(2) High sulfur absorption capacity of slag stream; good desulphurisation, oxygen-removing and phosphorus-taking off properties; efficiently absorbing the impurities in the steel at the same time.
(3) Capable to greatly increase the refining efficiency and the life of steel ladle.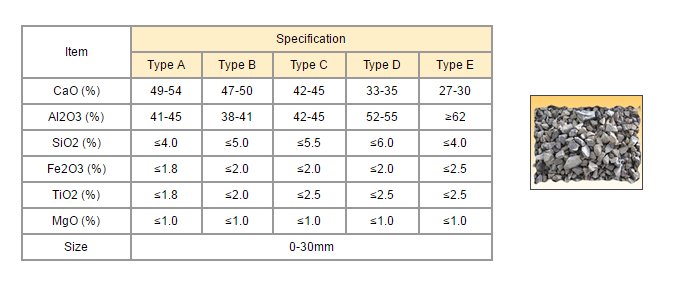 Flake Graphite is mainly used to produce graphite crucible and as coating for molding in the metallurgical industry. It also can be as lining and protecting slag in the steel-making furnace. Flake Graphite can be used in refractory factory to produce fire bricks.

Note: we can supply a wide range of Flake Graphite, which with different carbon content and size